The Baltic Course
Visto: 8193
European Ombudsman together with the European Parliament discussed issues devoted to citizens' rights and voiced their support in defending citizen's interests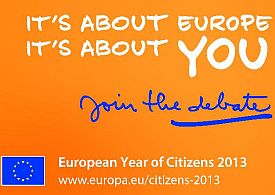 Riga, May 8.─ The EU Ombudsman's office is at the very heart of connecting the European Union with its citizens; this is ever more important in 2013 as the European Year of Citizens.
European Ombudsman, Mr. Diamandouros is fulfilling his mandate with a lot of energy and high professionalism, which has earned him a lot of trust of citizens in this important office and with it in the EU. He has truly been giving the citizens a voice and defending their interest, when necessary.
Important that this event was supported by the European Parliament, an institution, which is directly elected by the citizens of the EU and powerfully articulates their concerns, wishes and hopes. The PETI Committee has earned in this context a lot of trust as the Committee, where citizens can send their petitions and expect a thorough, powerful follow-up.
Reference: European Ombudsman seminar: It's Our Europe, Let's Get Active/Brussels; SPEECH/13/356, 23 April 2013.
Add a comment
Leer más...